Join the Clarity, Confidence, Connection Summit hosted by Samantha Kaaua, Candace McKim and Ranchelle Van Bryce where Women Breakthrough Barriers and Unlock Their Next Level of Success!
This is a LIVE, virtual, interactive Summit where 3 hosts simultaneously interview speakers on topics of relationships, intuition, business, mindset, prosperity, motivation, worth, wealth and wellness being held on Zoom. You'll be able to chat with speakers and attendees plus learn valuable tools such as:
The Key To Everything Is Within You

Freedom Seeker: Reclaiming Feminine Wisdom

Finding The Calm in The Chaos

Turn Your Side Hustle Into Your Full Time Dream Life

Improve Your Autoimmune Symptoms with These Simple Steps

Women & Worth, Wealth & Wellness

Cast A Magical Spell on Your Business

Everything Is A Relationship
Samantha Kaaua, Candace McKim and Ranchelle Van Bryce, put this event together because they know the importance for women to get unstuck, breakthrough barriers and become their best version of themselves. You will absolutely love becoming a part of this unique constellation of women!!!
The Clarity, Confidence, Connection Summit has chosen the best highly successful and impactful Global Speakers! They will be bringing their most transformative and influential, proven tools, tips, and resources along with a heavy dose of baddassery!
You'll gain even deeper clarity for yourself, feel inspired, motivated and confident while connecting with other incredible women!
Even if you're not in business for yourself you will still receive tons of value from attending this virtual event. There's a speaker to help you enhance every aspect of your life, wellness, relationships, mental health and more.
This is the event where you will breakthrough your most hidden barriers and unlock your next level of success! Grab your ticket below!
BUILD BONDS WITH THE OTHER BADASS WOMEN IN THIS MAGICAL EVENT
THAT WILL ALLOW YOU TO STEP
INTO YOUR POWER WITH PURPOSE AND PASSION

!

You can still purchase a VIP ticket that gives you access to $40,000 value of specially curated VIP Gifts plus access to ALL of the speakers' recordings so that you can watch as many of the presentations as you wish...PLUS...free admission to VIP Day on February 16th featuring interactive sessions, coaching, consulting, training, and opportunities to network with other VIP's.

Get your post-event ticket now at $197 USD.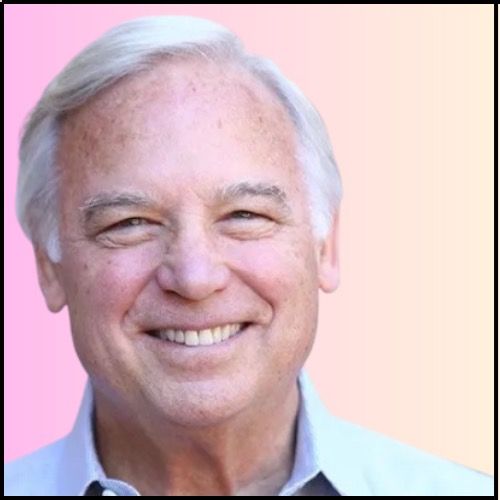 JACK CANFIELD
HEADLINE SPEAKER



The Success Principles -

How to Get From Where You Are to Where You Want To Be

Jack is the co-creator of the famous Chicken Soup for the Soul series which has sold nearly half a billion copies in 51 languages.
He's had 42 New York Times bestsellers and is the only author to have SEVEN books on the New York Times bestseller list on the SAME day for which he received a Guinness World Record.
Jack's more recent work is "The Success Principles: How to Get from where you are to where you want to be."
He is the founder of Canfield Training Company out of Santa Barbara, California and is often referred to as America's #1 Success Coach.
Speaking on Jan. 26, 2023 at 5:30pm PST
CANDACE MCKIM
Women & Worth, Wealth & Wellness
It's time my friends, for ALL of us women to fully embrace our true power as the badass women that we are!
Who you are and what you represent is important and essential for the world! Connecting to your worth and sharing your purpose is what will feed your soul and bring great wealth to all areas of your life and bank account!!!


RANCHELLE VAN BRYCE
Forget Pursuing And Achieving, Quantum Leap Instead
Have Ease & Flow While Using Your Business As The Vehicle To The Life You Want
SAMANTHA KAAUA
How To Stop Feeling Crazy In Your Marriage
Learn Samantha's counter-culture approach to help you become your best self and completely transform your marriage.
BETH

BEURKENS
Link Up with Your True Sources of Power!
3 Ancient Wisdom Keys to Break Through Invisible Barriers and Step into Your Greater Purpose harmony in her life.
LISA STAMPER
You Are The Niche
Learn The Fastest Way To Have All You Want & More, Guaranteed! Whether You Want Money, Love, Business, Career, Freedom, Fulfillment, Health & Wellbeing or All Of The Above I Will Show You Exactly What You Need To Do To Make This Your Reality Now!
CHRISTOPHER CHAMBERLIN
A Powerful Mindset! Rewire Your Mind... Recession Proof Your Business... Transform Your Entire Life…
In this keynote, Christopher will share with you powerful principles to explode your revenue and catapult your business and life to the next level of success and fulfilment. Go from chaos to clarity, from frustration to flow, from the grind to grace and ease, from strategy and tactics to mindset and miracles, from stress and overwhelm to a business and life you absolutely love!
Imagine more Clarity, Confidence and Connection in your life!
What would look different? What would feel different?
One of the biggest challenges that we've had over the past few years, even though there's been lots of virtual connection, we're still feeling disconnected!
What is this disconnection doing to us as Women? How has this disconnection affected our connection to ourselves, our businesses or with others.
When we're disconnected we feel excluded!
We start comparing ourselves to others and never feel good enough. Which affects our self-confidence and our self esteem and the consequences are:
we hide

eat unhealthy foods

are moodier

don't work out or look after ourselves

relationships suffer

we want to give up on our vision

and so much more that we don't talk about
This is why we've brought together over 70 expert speakers for the Clarity, Confidence, Connection Live Virtual Summit.
Abigail Teixeira
The Roots of Belief
A thought provoking talk about my own personal journey uncovering the deeply rooted limiting beliefs that were planted in me as a young child experiencing childhood abuse that when I told the adults in my life what happened I was not believed.
Aliya Levinson
The 3 Secrets To Creating Authentic Success By Expanding Your Unique Strengths
Catapult your impact in your business and life by being YOU. PERIOD!
Anastasiya Purlo
Return to Your Authentic Feminine Power
Discover 3 keys to recover your most true, authentic self and step into your epic power and purpose.
Andreea Tamas
How to Deal with Unexpected Change
During this presentation I offer people tools on how to stay empowered when they go through unwanted change. There are 3 points I will cover on how to adapt to change: 1.Change is inevitable 2.Change doesn't have to be hard 3.The power you hold in the process My mission is to help people find the MAGIC in the change.
Barbara Badolati
I Need A Nap!
Naps are not just for babies and pets. We are all genetically predisposed to requiring mid-day moments of rest and rejuvenation for body, mind and spirit.
Bea-Marie Aning
Creating the Impossible
In her talk Bea-Marie Aning will be unmasking the strategies that are holding you back from being the greatest version of yourself and give tips and tricks to look outside your pond and see the big wide ocean behind it.
Benjamin Blackett
Letting Movement Set You Free
Releasing Issues That Are Stored in Your Tissues
Brittany Williams
From Insecure to Radiant Queen
3 Golden Nuggets to Authentically and Confidently Take Your Throne and Reign Over Your Life...from the Inside Out!
Brooke Kekos
Magnetic Mindset- Harnessing the Power of the Subconscious Mind
How discovering your power is connected with the Subconscious mind and it's power it can hold over you.
Carol Pilkington
Completing Cycles of Action
What Cycles of Action are and the Importance of Completing Them.
Chasidy Wright
"Time is Tiking, Let's Start Toking"
With some specific tools and techniques Chasidy has been able to grow her TikTok following to over 70k in less than 4 months and her business reaches people all over the world. Join this talk and learn about the S.T.A.R. method that has empowered people to get over a 1000 followers and build their brand online.
Chelon Lockert
3 Keys to Your Queendom
Flowing from a place of Alignment
Claudia Rocafort
Conscious Leadership & Working From Your Zone of Genius
Whether you are the leader of your life, team, business, or corporation, Conscious Leadership is the new paradigm for success! Gaining the tools to understanding how you can maximize your unique talents, and the unique talents of those around you, leads you and others to live life your life purpose and work from your zone of genius.
Danielle D Jamieson
Healing in the Halls
Healing in the Halls
Diane Curley
To Your Success!
What exactly is success? Who decides the meaning of success? Is success truly attainable? With these questions you can quickly learn a framework created to challenge the narrative, discover new ways to achieve and redefine success for yourself.
Dr. Dolores Fazzino
Choose Your Words Wisely
Whether our words are said out loud or to ourselves, they can influence our health and well-being. Explore and learn more about the words you speak internally and externally, and how they affect your well-being.
Dotty Scott
Video Is Queen
How to get more traction online using video.
Edna A Castillo
Why Fighting Cancer is Not the Answer: What You Resist Persists
Tapping Into Your Soul to Heal Your Body, Mind, and Spirit.
Elizabeth Ocean
Manifest Your Dream Business
The Spiritual Leader's Guide To Attract Clients, Bring Your Message To The World And Have The Most Abundant Year Ever!
Francine Fontana
Finding Balance and Ease in a Complex World
You can quickly challenge your old narrative, discover new ways to achieve and redefine success for yourself by learning my simple framework.
Greta Grace
Queenagers: A Rite of Passage for Menopause
I help QueenAgers understand menopause, not as a pathology to be feared, but as a time of metamorphosis, a time to access new levels of creative power.
Holly Blazina
Leverage Your Gut's Wisdom to 10x Your Intuitive Gifts
If you struggle with gut health, you've got a tremendous wealth of unexplored power available to you. Rather than needing time and energy to access it, you can turn your gut into your superpower!
Ilona Rubashevsky
Divorce with Dignity - 3 Keys to Save Time, Money, Energy
3 Gems to Save Time, Money and Energy with Your Divorce
Jacqueline Myers
How to Predictably Attract More High-Paying Dream Clients
If you're ready to stop worrying about where your next client is coming from, wasting time cold networking that only leads to dead-end sales calls, and working with nightmare clients because, uh, you know, you need to pay the bills, what you will learn in this talk could help you banish these dream-killers for good!
Jade Fulton
Keeping Business Simple
You can be on only ONE PLATFORM, have only ONE OFFER, and keep to ONE STRATEGY. Learn how to keep your marketing simple, get more people booking calls, and why LinkedIn is the platform you want to be on.
Joan Marie Butler
Turn Your Side Hustle into Your Full Time Dream Life
3 STEPS TO ENSURE SUCCESS
Journey Henkart
Networking with Heart
Reconnect with who you are at your core and tap into your intuition to create authentic relationships in business and in life.
Judy Lee
Vision Creation
Learn how to create a life you love
Juliet Clark
The 8 Pillars of Author Platform Building
The average Indy author sells less than 100 books. Writing your book is easy. Building the audience to purchase your book has a steep learning curve and begins at least a year from the time your book is published.
Justin Elledge
Clear your Ghost, Claim your Life!
How to clear the "Unseen" that has been holding you back from Love, Grace and Abundance!
Kareen Havell
Getting Real About Astrology
Using astrology to help you navigate the ebb and flow of everyday life. Allowing yourself to be the driver of your own life.
Karen Dollmont
Healing Through Vulnerability
Creating Connection Through Vulnerability.
Karrie Mitten
Something More!
Listen to Your Soul's Calling.
Kat Cro
I AM She
I'm passionate about empowering women to create the life of their dreams via the Law of Attraction. I will offer 3 tips/tricks/secrets on how to do it! I've leaned heavily on the teachings of the Law of Attraction, as well as my guidance & intuition, to manifest my dreams.
Kathi Szabo
Finding Calm In The Chaos
Who hasn't felt stressed out? Work, family, volunteering. With so many pressures, how can we get it all done and not feel overwhelmed? We learn to engage Positive Stress (yep there is a good stress) and in the end, Find Calm From Within.
Kathryn Yarborough
Unlock the Authentically Vibrant Speaker in You!
Don't be boring! Break free from conditioning that suppressed your vibrancy. Learn how to speak from your core so that your ideal clients can't wait to take a next step with you.
Kathy Basel
2023 Year of the Woman: Find Your Fire, Freedom & Fulfillment
Kathy will walk you through an EXPERIENCE to feel your divine feminine essence and begin to take confident steps toward that deep yearning for freedom, to crack the code to a life with greater passion, deeper connections and soul-fulfilling meaning in your life.
Kathy Biggs
Get Free, Get Clear, Get Confident, Get Going
You are way more powerful than you think you are!
Kathy James
3 Foundational Fighter Truths to Resiliency in the Ring
Secrets that will position you for success despite adversity or circumstance.
Katie Friedman
3 Tips to Seeing Clearer in the Zoom Age
Proactive Tips to Seeing Beyond Vision Loss. Katie will offer you tips to help you prevent eye fatigue, dry eyes, loss of focus and how to make your glasses work better for you.
Kellie Sabas
3 As to Ace Anything
Kellie will share strategies to train your brain and have a higher success rate in achieving your goals. These tools and teachings are based on The Science of Well-Being
Kelly Falardeau
Turn Your Story into a Book in 7 Easy Steps
How do you turn your story into a book and get it published on Amazon? That's the big question and quite the mystery for some people. In this presentation, Kelly will walk you through the 7 steps it takes to write and publish your book on Amazon so you can make an impact and income.
Kim Sorrelle
How Do You Know It's Love
3 Truths About Love That Will Rock Your World!
Krys Pappius
3 Steps From Overachiever to High Performer
Overachievers base their value on the number of things they accomplish. High performers, while ambitious and goal focused, are driven by a desire to live with purpose and meaning in all aspects of their life, to leave a legacy. I help women make the transition from overachiever to high performer.
Laura Barker
Getting Business Using LinkedIn
3 Things You Need to Have an Optimized Profile
Leah Petrucci
How to Set Boundaries Using Tapping/Emotional Freedom Technique
How to apply principles of neuroscience using a technique called Emotional Freedom Technique (a.k.a. Tapping) to set challenging boundaries with others and ourselves.
Leslie D Lovlin
Ayurveda
Healing through the 5 Senses.
Lindsay Friesen
Improving Workplace Culture
The impact leadership has on the overall health of workplace culture.
Lisa Short
Why Your Energy Can't Keep Up With Your Drive
Why we are seeing burnout on repeat
Liz Jakoi
Unleash Your Genius
How to Create The Life You Love
Marc Maynard
The Possibility Prison - Escaping The Backstory
My realization that I was in a mental prison and what it took to escape it. Starting with my most sacred friend (my mother), leading to my shift in awareness, the pivotal things I did to overcome the story, and ending with an example of my wife benefiting from this understanding (my best client).
Melissa Kuan
Manifest Your Destiny
3 Keys (backed by neuroscience) to manifest anything you want... even if manifesting "doesn't work" for you.
Michelle Bateman
Up Your Unique Factor & Become UNSTOPPABLE
We will look at what's getting in your way, totally shift your perspective on fear that will blow your mind and apply tools from Michelle's Soul Guided System to see results right away!
Michelle Cooper
Unlocking Your Next Wealth Level
How to achieve real wealth, WITHOUT losing your mind, and WITHOUT losing yourself.
Michelle Fournier
Piss Off Perfect and Release Your Authentic Bad Ass!
A fun and insightful twist on the topic of perfection. We'll look at the concept of perfection – in essence how many people pursue perfection or 'being good enough' without actually having a clear picture of what that really means.
Mishelle Thorpe
3 Simple Strategies Solopreneurs Need To Turn Instagram Followers Into Paying Clients
Learn the secrets behind authentically + organically attracting your dream clients on Instagram without chasing them down, spamming their inbox, posting daily or even dancing awkwardly on camera.
Nisreen Mama Foda
Raise Your Frequency to Manifest Success
5 super simple ways to raise your positive vibration/frequency which will help in manifesting positive things to match that higher vibration.
Noe Oliver
Create the Blueprint for your Bravest Self!
Rise from the Ashes of Midlife Divorce Happier, Healther and Hotter than you ever imagined!
Pam August
Connect Potential for Exponential Impact!
One Mindset Shift - One Operating System - One Core Practice
Patricia Campbell
Unleash Your Voice, Shine Your Light and Share Your Message
Breakthrough to fearless speaking, share your message and build your 6 figure business.Breakthrough to fearless speaking, share your message and build your 6 figure business.
Renee Crane
Words Have POWER!
Using Words Wisely to Create A Life You Absolutely Love.
Rose Barr
Gain Clarity, Confidence and Connection to Transform your Wealth Mindset
Gain Clarity, Confidence and Connection to Transform your Wealth Mindset
Sam Bell
The Mother Daughter Code
What it is and why it is THE most important code to crack if you want to get unstuck and stop existing and start living!
Sarah Vincent
The Key To Everything is Within You
This talk is about embracing your personal power and transforming your life. It is about breaking through old paradigms and stepping into the person you are meant to be.
Sequoia Nacmanie
Why Empaths Have Trouble Manifesting
Join Sequoia as she explains how to avoid this common empath's pitfall. By the end of this talk you'll be able to start clearing others' energy from your field, deeply feel what your own energy field is meant to contain, and gain certainty that what you're manifesting is truly your own!
Sonia Ovenden
Mastering Motivation
Motivation at the level of fact can fluctuate when we need it most. In my talk l I will share 3 ways to develop a motivated mindset and make the best of your motivation. enabling you to increase your own motivation many times over and fit your goals in around a busy schedule or routine.
Stephanie Zenker
Personal Sustainability Conversation
What Got You Here Won't Get You There
Susan Binnie
Create The Story You Truly Want To Experience
Stand in the Power of your Truth, its Your Story. What you want to experience is up you. Once you know what you want, and identify what you CAN do to get there, what you WILL do to acheive it, and you you ARE, you can begin to create the live you want to have.
Susie Day
Improve your Autoimmune Symptoms with These Simple Steps
Discover simple everyday practices to have less pain, more energy, and feel better in your body!
Tania Andrushko
Empathy to Inspire Humanity to Expand in Love & Peace!
Empathy as a tool to inspire humanity to expand in Love & Peace! How to create a reality with happy and conscious people
Vandana Puranik
Curiosity, Creativity, Clarity
The Power to Change Everything & Know Where You Need to Go Next.
Velva Dawn Silver
Unwinding the Divine Masculine
Releasing the old programs that are holding you back from your greatest growth.
Veronica Weedon
How to Become a Narcissist's Worst Nightmare
And begin your journey from fear to freedom.
Yaela Tal
What if You Are Worthy of Better?!
How I broke free from a narcissistic abusive relationship and fell deeply in love with myself.
Yvonne Winkler
Freedom Seeker: Reclaiming Feminine Wisdom
Join Yvonne on an unforgettable journey over barbed wire fences, through debilitating dependencies. This deep conversation on healing, grieving, mental health, community and forgiveness will have you dwelling in the possibility of freedom.
Not Sure What Talks You Want to Watch Live?
Check our talk categories below to narrow down which topics resonate with you the most!
Grab Your Ticket Here
Join this lineup of amazing speakers who are here to help you:
THRIVE
SHINE
MONETIZE
ALIGN
And make a bigger impact on the world, but most importantly a bigger impact with YOU and your family life... your everyday life, that's what is MOST important.
GRAB YOUR TICKET NOW!
EVENT DETAILS
Clarity . Confidence . Connection Online Summit

January 26 & 27 2022
8:00am-7:00pm PST
Hosted by: Candace McKim, Samantha Kaaua & Ranchelle Van Bryce
Grab Your Ticket
Thank you ladies

for believing in me and for

encouraging me to do this.

I'm feeling so empowered!
____ Krys Pappius
I really love the way

you communicate and work together.

Thank you for birthing this

incredible portal of amazing people.
____ Mariell Watner